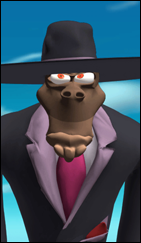 Bolok (voiced by Billy West) was a cruel bounty hunter hired by the evil scientist Dr. Saccharin to capture the aliens. He the secondary antagonist of the game. was exclusively created for the CD-Rom game Stupid Invaders. He also appears in the episode, The Pro.
Backround
Edit
As a boy Bolok loved adventure and death, his mom called him a terror but your more likely to here his father say he'll maybe grow up to be a army man.
Section heading
Edit
He was collectig soul for some purpose. Write the second section of your article here.